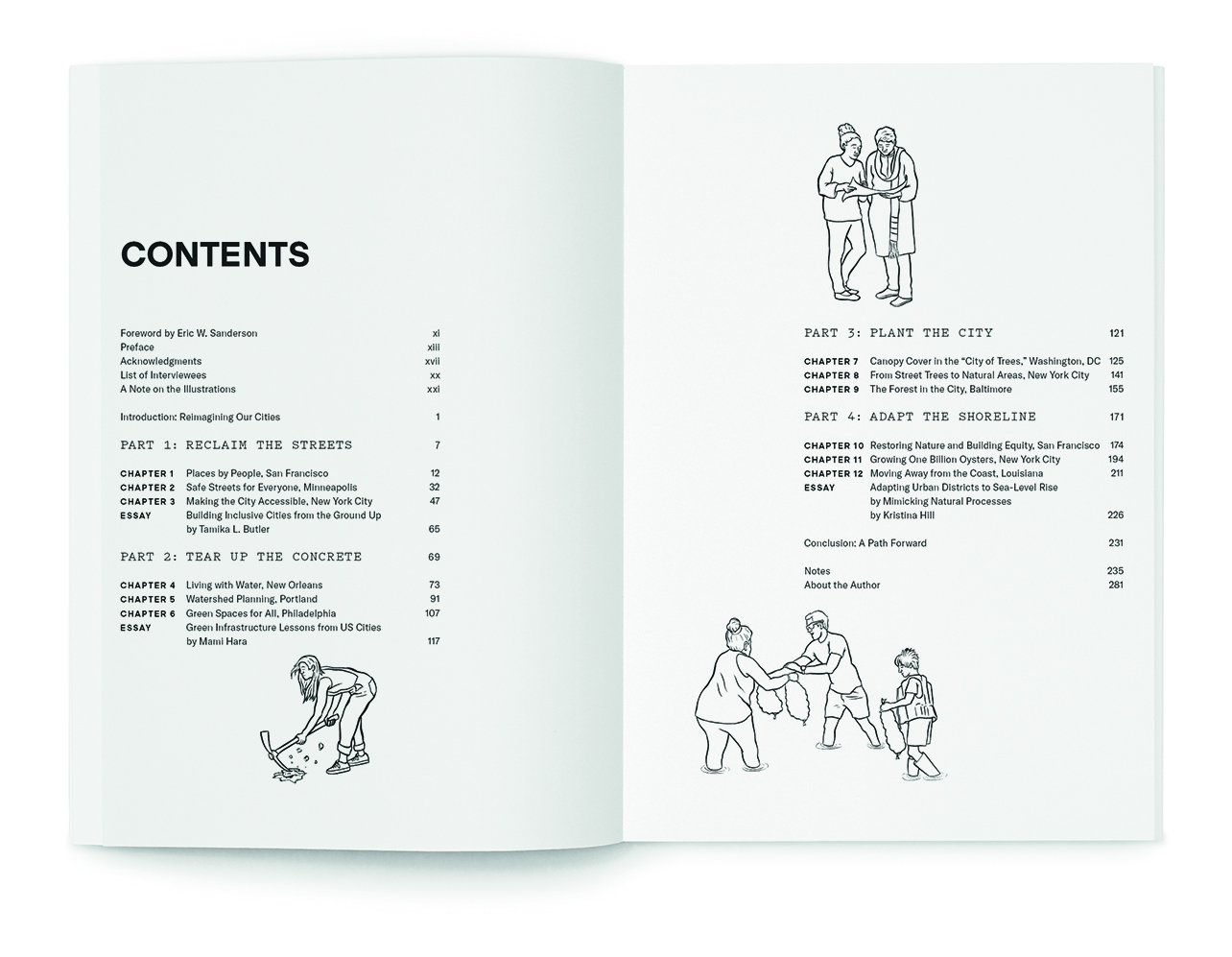 From the Ground Up
By Alison Sant
Named one of the best books of 2022 by the American Society of Landscape Architects and Planetizen
Use code GROUND to get 20% off when purchasing from Island Press
For decades, American cities have experimented with ways to remake themselves in response to climate change. These efforts, often driven by grassroots activism, offer valuable lessons for transforming the places we live. In From the Ground Up: Local Efforts to Create Resilient Cities, design expert Alison Sant focuses on the unique ways in which US cities are working to mitigate and adapt to climate change while creating equitable and livable communities. She shows how, from the ground up, we are raising the bar to make cities places in which we don't just survive, but where all people have the opportunity to thrive.
The efforts discussed in the book demonstrate how urban experimentation and community-based development are informing long-term solutions. Sant shows how US cities are reclaiming their streets from cars, restoring watersheds, growing forests, and adapting shorelines to improve people's lives while addressing the changing climate. The best examples of this work bring together the energy of community activists, the organization of advocacy groups, the power of city government, and the reach of federal environmental policy.
Sant presents 12 case studies, drawn from research and over 90 interviews with people who are working in these communities to make a difference: advocacy groups in Washington, DC are expanding the urban tree canopy and offering job training in the growing sector of urban forestry; in New York, transit agencies are working to make streets safer for cyclists and pedestrians while shortening commutes. In San Francisco, community activists are creating shoreline parks while addressing historic environmental injustice.
From the Ground Up is a call to action. When we make the places we live more climate resilient, we need to acknowledge and address the history of social and racial injustice. Advocates, non-profit organizations, community-based groups, and government officials will find examples of how to build alliances to support and embolden this vision. Together we can build cities that will be resilient to the challenges ahead.
Also available from booksellers nationwide on Bookshop.org
Praise
"Alison Sant's adoration of urban ecosystems is palpable in From the Ground Up. Starting from the soil, she walks with leaders in cities' natural resources and follows the interconnectedness of the streams below our sidewalks and the branches that brush our skyscrapers, the waters that lap our coastlines, and the people in neighborhoods who make it all possible. For those of us planning amidst multiple interconnected crises, Sant's From the Ground Up is a critical reminder that the best solutions are led by communities first."
—Erin Barnes, Co-founder and CEO of ioby
"Resiliency is more than infrastructure, organization, finance, and process. It's all those things, but first and foremost, it's about people seizing the resources at hand and taking control of our collective destiny. This is hard work, but fortunately, in this great read, Alison Sant points the way."
—Anthony A. Williams, CEO and Executive Director, Federal City Council; former Mayor of the District of Columbia
Eric W. Sanderson
Eric W. Sanderson is a senior conservation ecologist for the Wildlife Conservation Society and the author of Manahatta: A Natural History of New York City and Terra Nova: The New World after the Oil, Cars, and Suburbs.
Tamika L. Butler
Tamika L. Butler, esq., is a national expert on the built environment and equity. She is the founder of Tamika L. Butler Consulting, LLC and previously served as the director of equity and inclusion at Toole Design and as executive director of both the Los Angeles Neighborhood Land Trust and the Los Angeles Bicycle Coalition. She is currently pursuing her PhD in urban planning at the University of California, Los Angeles.
Mami Hara
Mami Hara, formerly with the Philadelphia Water Department, is the general manager and chief executive officer of Seattle Public Utilities. She is board chair of the US Water Alliance, a board member of the National Association of Clean Water Agencies, and founder of the Green Infrastructure Leadership Exchange.
Kristina Hill
Kristina Hill is an associate professor of landscape architecture, environmental planning, and urban design at the University of California, Berkeley. Her work focuses on urban ecology and hydrology in relation to physical design and social justice issues. Her primary area of work is in adapting urban districts and shore zones to the new challenges associated with climate change.